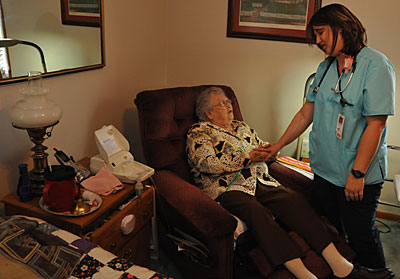 Hospice provides more than a peaceful end
By Nick Tabor, New Era Staff Writer
The doctor said Walker's heart was beating at 30 percent of the healthy rate.
She would probably die, the doctor said, in three to four weeks.
A social worker told the family about Pennyroyal Hospice. Contrary to most people's impressions, she said, hospice staff didn't limit their scope to the comatose and those just a day or two from death. A month wasn't too early to start using their services, she said. Anyone diagnosed with a terminal illness could qualify.
The hospice aimed to do more than palliate the death experience, she said. It aimed to help patients live better.