Its staff integrates physical, mental treatment on an unprecedented scale
By Nick Tabor, New Era Senior Staff Writer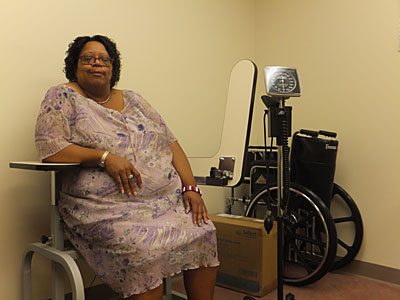 Several years ago, Shirley Porter's depression and physical ailments were preventing her from keeping a job — and thus from affording medical treatment.
She knew she faced the risk of diabetes, and she knew her blood pressure sometimes shot up too high. But Porter, now 49, felt so lethargic some mornings that she struggled just to brush her teeth and comb her hair.
One day, she told her therapy group at the Pennyroyal Mental Health Center her head ached and her arm felt a little numb.
The Pennyroyal Center was in the early stages of developing its primary care center. A nurse checked Porter's blood pressure. It was 217 over 135 — high enough to cause a stroke.
Medical staff rushed her to a hospital, where she stayed for several days.
After she stabilized, a Pennyroyal Center nurse started checking her blood pressure and weight every week. The staff coached her closely on her daily diet. Her case manager helped her get accepted at St. Luke Free Clinic.
In a recent test, roughly two years since her hospital visit, Porter's blood pressure registered at 158 over 94, said Lisa Bridges, a registered nurse.
"I've told doctors that if I wasn't here, I'd be dead," Porter said Wednesday as she sat in a community room at the Pennyroyal Center.
The Pennyroyal Center is trying to integrate physical and mental treatment on a scale apparently without precedent in Kentucky. Director David Ptaszek said the center is designing its own approach with some guidance from a facility near Knoxville, Tenn.
"Certainly, for this area, it's very much cutting-edge," said Dr. David Gray, a Pennyroyal Center psychiatrist.
Providing the full spectrum of treatment on a single campus helps staff on both sides communicate better, tailor treatments, and monitor patients more closely, staff members said. It's a fundamentally team-oriented approach.
Close communication
The primary care clinic occupies the basement of a building at the Pennyroyal Center's North Drive campus. It has four exam rooms, two full-time doctors and several other staff members, and each of the doctors at Bluegrass MD works there one day a week, Bridges said.
The clinic concentrates on hypertension, diabetes and heart disease, she said.
Mentally ill clients often don't seek medical treatment, even when their counselors goad them, Gray said. The primary care clinic aims to solve this problem.
When Gray takes on a new patient, he typically questions the person about their medication and their medical problems. He also tries to stay posted on each patient's physical state.
If Gray thinks a client needs medical treatment, he can help schedule a doctor's appointment in the same building as his own office — sometimes for the same day.
"There's really no substitute for what I call a warm hand-off," he said. "You remove some of those steps which sometimes become obstacles."
Further, because the Pennyroyal Center keeps digital records on every client, counselors can monitor which medications the clinic's doctors are assigning, Bridges said. If any medication is causing mental side effects, the counselor can work with the doctor to optimize the patient's prescription.
False dichotomy
But the benefits go deeper than mere logistics, Gray said. The integrated model lets staff capitalize on the connections between the body and the mind.
For instance, a client suffering from depression might not need psychiatric medication, Gray said. High blood pressure can cause lethargy and tiredness similar to the effects of depression. So can thyroid problems.
"The person would not be best served if their thyroid wasn't working properly, and I just gave them an anti-depressant," Gray said.
Now he can work with the primary care clinic to pinpoint the source of patients' problems.
In addition to his psychiatric internship, Gray also did an internship in internal medicine. He came to the Pennyroyal Center for the chance to integrate the two disciplines.
"It's a false dichotomy to think there's a separation between the mind and the body," he said.
But this dichotomy creates problems in the medical system, Bridges said.
"People tend to look at medical care in silos," she said. "Like they're very disjointed."
So far, the primary care center has mostly treated the Pennyroyal Center's existing mental health clients, but it announced Saturday it is accepting everyone who has insurance or can pay out-of-pocket.
The integration model can work in both directions, Bridges said. At present, mental health clients get coaching on physical health. Bridges hopes new patients will come in seeking physical treatment and open up to the possibility of mental treatment. The office's doctors can perform depression screenings.
The clinic is open 9 a.m. to 6 p.m. every day. For more information, or to schedule an appointment, call 270-887-6152.